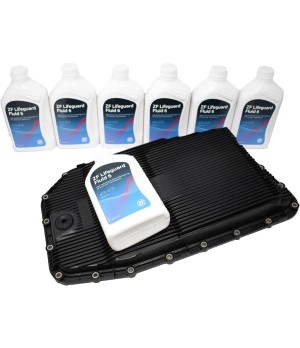  
ZF Oil Change Kit 6HP 1068.298.062 for 6HP26, 6HP28, 6HP32 transmissions
- Oil change Kit for ZF 6HP transmission
- with integrated filter and screw set
- suitable for 6HP26, 6HP26 X, 6HP28, 6HP28 X, 6HP32
Secure payment
Express shipping
Order support
The ZF 6HP oil change kit 1068.298.062 is an oil change kit for changing transmission oil on certain ZF 6HP26 and 6HP28 automatic transmissions.
The change kit consists of a ZF 6HP oil pan with integrated oil filter (so-called filter oil pan) and closure as well as screw set, which is required for the transmission oil change of ZF 6HP automatic transmissions, with 7x ZF Lifeguard Fluid 6 1 L automatic transmission oil. So the scope of supply is composed as follows:
1x ZF 6HP Oil Pan 1068.298.062 with integrated transmission oil filter
7x ZF Lifeguard Fluid 6 automatic transmission oil (S671 090 255 01) 1 liter
complete screw set for oil pan
Screw plug or oil drain plug for oil pan
Suitable for 6HP26, 6HP28 and 6HP32 transmissions
The ZF 1068.298.083 oil pan included in the set is suitable for use in the following ZF 6HP walking automatic transmissions:
ZF 6HP26
ZF 6HP26 X
ZF 6HP28
ZF 6HP28 X
ZF 6HP32
These are mainly found in vehicles from the following manufacturers:
Bentley
BMW and Alpina
Ford
Hyundai
Jaguar
Lincoln
Land Rover
Rolls-Royce
Wiesmann
For these ZF 6HP automatic transmissions, the manufacturer also specifies the use of the OEM automatic transmission oil ZF Lifeguard Fluid 6.
When is the ZF 6HP oil change due?
According to the manufacturer, a transmission oil change on ZF automatic transmissions should be performed every 150,000 kilometers or after 8 years at the latest. Depending on driving style and individual driving profile, e.g. many trips at high speeds, shorter change intervals are advisable, as the transmission oil ages faster at high operating temperatures than under normal conditions.
Other products you may be interested in