Back

Products

Exhaust systems

Lambda

Emulatori sonda lambda

Lubrificanti

Filtri olio

Trasmissione

Transmission & Differential

Sospensioni

sway-bar

Brake systems

ECU

Featured

NEW

Brands

Img

Welcome to our store

Carparty offers carefully selected quality products in the aftermarket aftermarket. We pay particular attention to the relationship with the customer, from packaging to delivery of the order.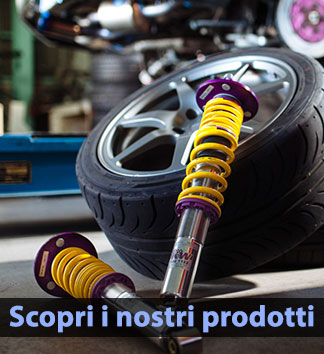 List of products by brand Ohlins
"Öhlins Racing has been a cornerstone of the motorsport, motorcycle, and automotive industries for over 45 years.
Since day one, our focus has been on delivering high-quality products, service, and support — from the MotoGP circuit to national and local racing events — in over 50 distributing countries.
We supply the aftermarket, OEM partners, and teams with high-end suspension technology, and strive to exceed the expectations of our customers around the world".
The Ohlins Road & Track kit is designed to offer a very high level of performance for both street driven vehicles, as well as offer the adjustability needed for track cars. These shocks are manually adjustable monotubes, with up to 20 individual settings to adjust rebound from comfort to competition. The threaded body allows accurate adjustability of the front and rear progressive springs to achieve the vehicle ride height center of gravity and level of performance handling desired. Ohlins Road & Track's can also be revalved, rebuilt, and can be supplied with various spring rates to meet your demands!
A more than 40 year long tradition of high-end racing commitments and state-of-the-art solutions within advanced suspension technology is now available for street cars all over the world. The focus has been clear from the very beginning – superior road handling without sacrificing comfort in your day-to-day transports. The time of compromises is over. All shocks have suffered through vast corrosion tests according to ISO 9227. The end result is a worldwide 2-year limited warranty on all of our products.
The Öhlins EDC Cancellation Kit for Road & Track deactivates control lamps and error reports when electronically adjustable OEM suspension is replaced by a mechanical system. The cancellation kit is plugged into the original suspension controls. No further programming is needed.