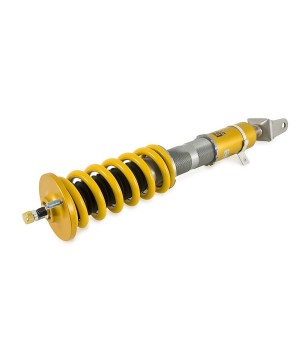  
OHLINS Road & Track Honda S2000 AP1 AP2 (1999-2009) HOS MI21
Tax included
Shipping in 15-22 days
The Ohlins Road & Track kit is designed to offer a very high level of performance for both street driven vehicles, as well as offer the adjustability needed for track cars. These shocks are manually adjustable monotubes, with up to 20 individual settings to adjust rebound from comfort to competition. The threaded body allows accurate adjustability of the front and rear progressive springs to achieve the vehicle ride height center of gravity and level of performance handling desired. Ohlins Road & Track's can also be revalved, rebuilt, and can be supplied with various spring rates to meet your demands!
Secure payment
Express shipping
Order support
OHLINS Road & Track Honda S2000 AP1 AP2 (1999-2009) HOS MI21, springs included
A more than 40 year long tradition of high-end racing commitments and state-of-the-art solutions within advanced suspension technology is now available for street cars all over the world. The focus has been clear from the very beginning – superior road handling without sacrificing comfort in your day-to-day transports. The time of compromises is over. All shocks have suffered through vast corrosion tests according to ISO 9227. The end result is a worldwide 2-year limited warranty on all of our products.
General Features:
DFV technology (Dual Flow Valve)
Individual height adjustment
Rebuildable
Corrosion salt spray tested (ISO 9227)
2 year warranty
Features Front:
Conventional shock absorber
Compression and rebound damping with one adjuster
Spring preload adjuster
Separate ride height adjustment
Approx. 25 mm lower than standard with recommended setup
Spring rate 110 N/mm
Aluminum top mounts (not adjustable)
Features Rear:
Conventional shock absorber
Compression and rebound damping with one adjuster
Spring preload adjuster
Separate ride height adjustment
Approx. 25 mm lower than standard with recommended setup
Spring rate 70 N/mm
Aluminum top mounts (not adjustable)
Purchased Parts Package:
Coil over kit inclunding mounting parts code: HOS MI21
2 front springs OHLINS 48010-35 Spring 65mm ID / 200mm Length / 110 N/mm
2 rear springs OHLINS 48010-19 Spring 65mm ID / 200mm Length / 70 N/mm
C-Spanner (for spring preload adjustment)
Owners manual and mounting instruction
Sticker set
Fits the following vehicles