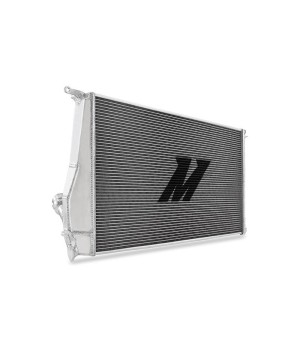  
Performance Aluminium Radiator for BMW 335i 135i (Automatic transmission)
Tax included
Shipping in 15-20 days
TIG welded, 100% aluminium performance radiator
Ideal for both daily and competition use
Up to a 35% increase in cooling
Lifetime warranty
Direct fitment, no modification needed!
Supplied with a 1.3 BAR uprated radiator cap
Direct fit for the manual transmission 2006–2013 BMW 335i and 2007–2012 BMW 135i
Secure payment
Express shipping
Order support
Performance Aluminium Radiator for BMW 335i 135i (Manual) 2006–2013
For either tuned daily use, or competition, Mishimoto radiators are an essential modification for your car. By increasing heat exchange they guarantee lower operating temperatures, improving vehicle reliability and performance.
They are made from aircraft quality aluminium, TIG welded and polished. Their dual core construction and high thermal conductivity, provides up to a 35% increase in efficiency compared to the OEM item.
Mishimoto radiators are guaranteed for life. They are designed to be a direct fit, installing in place of the OEM radiator. Where applicable, they come with an uprated 1.3 bar radiator cap.
Technical overview
OVERALL HEIGHT: 71,8 cm
OVERALL LENGTH: 37,8 cm
OVERALL WIDTH: 10,4 cm
CORE LENGTH: 60 cm
CORE HEIGHT: 35 cm
FLUID CAPACITY (litri): 9,3 L
ROWS: 2
CORE THICKNESS: 6,2 cm
DRAIN PLUG THREAD SIZE: M12 x 1.5
APPLICATIONS: 2008-2012 BMW E82 135i Coupe - 2010-2012 BMW E82 M Coupe - 2009-2012 BMW E84 X1 28i/28ix/35ix - 2007-2012 BMW E88 135i - 2011-2012 BMW E89 Z4 28i - 2009-2012 BMW E89 Z4 35i - 2006-2011 BMW E90 335i/335xi - 2007-2013 BMW E92 335i/335xi/335is - 2007-2013 BMW E93 335i/335xi/335is
ENGINE CODES: N54 - N55
CHASSIS CODES: E82 - E84 - E88 - E89 - E90 - E92 - E93
IMPORTANT NOTE: This item is for Manual Transmission vehicles. Vehicles equipped with an automatic transmission will require modification to fit the installation of a Mishimoto Universal Transmission Cooler Kit.
Other products you may be interested in