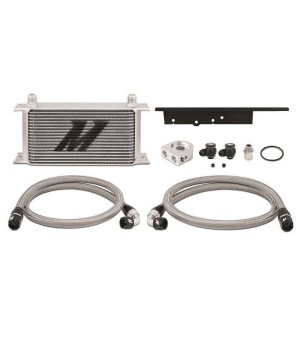  
Mishimoto Oil Cooler Kit for Nissan 350Z
Tax included
Shipping in 2-3 days
Plug & play oil cooler kit for Nissan 350Z
Ideal for intensive use
Up to 25°C of oil temperature reduction
Oil capacity increased from 0,5 to 1 litre (depending on model)
Comes complete with all accessories required for installation : Dash 10 braided hoses, bolts, brackets, fittings, etc.
Mishimoto lifetime warranty
Secure payment
Express shipping
Order support
Mishimoto Oil Cooler Kit for Nissan 350Z with sandwich plate (grey)
Whether used for everyday driving, on the track or in competitions, Mishimoto radiators are an excellent upgrade for all sports cars. Increasing thermal exchanges, they insure lower operating temperatures, for better reliability.
They have a lifetime guarantee and come with all required accessories for a "bolt-on" installation, without any modifications : Dash 10 stainless steel braided hoses, brackets, bolts, fittings, sandwich plate...
The thermostatic sandwich plate opens at 85°C and allows for a quicker increase in temperature for everyday use (especially in winter). The standard plate allows for a simultaneous installation for the radiator and two oil sensors (for example : oil temperature and oil pressure) but is not thermostatic : the oil permanently circulates around the radiator. The second plate is mainly suitable for intense use.
Plug & play oil cooler kit for Nissan 350Z
Ideal for intensive use
Up to 25°C of oil temperature reduction
Oil capacity increased from 0,5 to 1 litre (depending on model)
Comes complete with all accessories required for installation : Dash 10 braided hoses, bolts, brackets, fittings, etc.
Mishimoto lifetime warranty
Other products you may be interested in