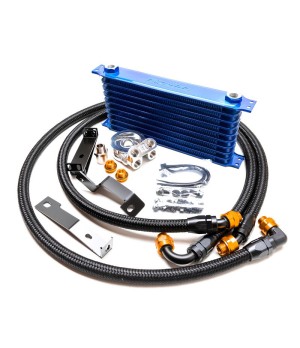  
GReddy Oil Cooler Kit for Toyota Yaris GR (2020+)
Tax included
Shipping in 7-9 days
For Toyota Yaris GR (2020+)
Engine code: G16E-GTS
Ideal for intensive use
10°C+ of oil temperature reduction
Built-in thermostat (opening between 73 and 84°C)
Comes complete with all accessories required for installation: hoses, bolts, brackets, fittings, etc.
GReddy part number: 12014640
Made in Japan
Secure payment
Express shipping
Order support
GReddy Oil Cooler Kit for Toyota Yaris GR (2020+)
Specifically designed for the Toyota Yaris GR, this GReddy cooler significantly lowers the engine's oil temperature, especially during heavy use. You are then able to exploit the engine's capabilities for longer while improving its reliability.
GReddy conducted tests on the Tsukuba circuit in Japan at a temperature of 33°C comparing the performance of two Yaris GRs, one stock and the other equipped with this oil cooler. On the stock model, the engine oil rose above 130°C after only 4 laps before reaching the critical temperature of 135°C on lap 7. On the vehicle with the GReddy oil cooler, the temperature stabilized around 125°C and allowed this Yaris GR to continue running without any complications.
Light blue in color, this 10-row GReddy oil cooler mounts in front of the radiator for maximum cooling. It features an internal thermostat (opening between 73 and 84°C) and comes with Earl's Prolite 350 braided hoses (#10) and GReddy fittings. Some minor trimming is required to install this cooler.
Kit Contents
Oil cooler core (10 rows)
Hoses (1520 mm/1260 mm)
Fittings (30°/30°/90°/120°)
Oil block (Type-E)
Stay set
Other products you may be interested in