Back

Products

Exhaust systems

Lambda

Emulatori sonda lambda

Lubrificanti

Filtri olio

Trasmissione

Transmission & Differential

Sospensioni

sway-bar

Brake systems

ECU

Featured

NEW

Brands

Img

Welcome to our store

Carparty offers carefully selected quality products in the aftermarket aftermarket. We pay particular attention to the relationship with the customer, from packaging to delivery of the order.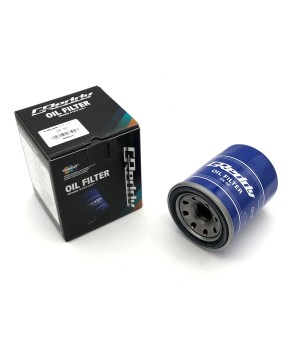  
GReddy OX-05 Oil Filter - Mitsubishi Evo, Mazda
Tax included
Shipping in 2-3 days
GReddy OX-05 Oil Filter
Thread size : M20x1.5
Diameter : 65 mm
Height : 75 mm
Excellent filtration
For compatible models : see below
Oil flow increasead by 30 % compared to OEM
Limits oil pressure dropping
Made in Japan
GReddy part no. : 13901105
GReddy OX-05 Oil Filter
Made in Japan by Trust, GReddy OX oil filters are designed for some of the most powerful Japanese vehicles, offering both excellent quality and performance. Thanks to their patent technology, these filters ensure one of the purest filtrations, and minimal oil pressure drop through the filter. Oil flow is also increased, ensuring better engine performance and cooling efficiency.
GReddy recommend replacing the filter every 6 months or every 10.000 km, or more often for intense use. Give your Japanese sportscar the best !
Application List
Mazda 3 / Axela
Mazda 6 / Attenza
Mazda CX-5
Mazda Demio
Mazda Verisa
Mitsubishi Lancer Evolution I (4G63)
Mitsubishi Lancer Evolution II (4G63)
Mitsubishi Lancer Evolution III (4G63)
Mitsubishi Lancer Evolution IV (4G63)
Mitsubishi Lancer Evolution V (4G63)
Mitsubishi Lancer Evolution VI (4G63)
Mitsubishi Lancer Evolution VII (4G63)
Mitsubishi Lancer Evolution VIII (4G63)
Mitsubishi Lancer Evolution IX (4G63)
Mitsubishi Lancer Evolution X (4B11)
Mitsubishi 3000GT / GTO (6G72)
Mitsubishi Colt (4G15)
Mitsubishi FTO (6A12)
Mitsubishi Galant VR4 (6A12, 6A13)
Mitsubishi Legnum (6A12, 6A13)
Mitsubishi RVR
Mitsubishi Outlander
Mitsubishi Galant / Fortis
Mitsubishi Colt
Mitsubishi Chariot / Grandis
Mitsubishi Delica / Van
Mitsubishi Mirage
Mitsubishi Lancer / Cargo
Characteristics
| | |
| --- | --- |
| Car Make |  Mitsubishi, Honda, Mazda |
| Engine Code | 4B11T, 4G15T, 4G63, 4G63T, 6A12, 6G72, B16, B18, B6-ZE, BP-ZE, F20, F22, K20 |