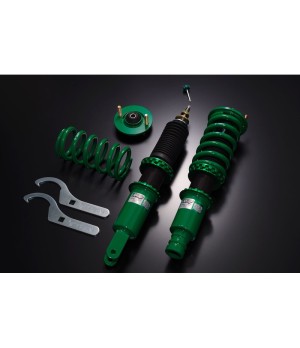  
Tein Flex Z Coilovers for Honda Civic Type R EP3 (01-05)
Tax included
Shipping in 10-12 days
- The perfect compromise between comfort and performance
- To suit Honda Civic Type R EP3 (01-05)
- Ride height adjustment : from -9 to -77 mm (front) and -3 to -61 mm (rear)
- Spring rates : 6 kgF/mm (front) and 8 kgF/mm (rear)
- 16 stage damping adjustment
- Compatible with Tein EDFC (EDK05-12140)
- OEM specification brake hose fittings
- Anti-corrosion coating and dust boots
- 1 year warranty
- Tein reference : VSA22-CUSS1
Secure payment
Express shipping
Order support
Tein Flex Z Coilovers for Honda Civic Type R EP3 (01-05)
A direct evolution of the previous Street Flex, the new Flex Z range has been developed to combine both comfort and performance for sporty drivers. In order to provide the best pricing, engineers at Tein have completely re-designed the Japanese production plant and manufacturing processes. As a result, this offers the best quality/price ratio ever offered from Tein.
Thanks to their oil and gas twin-tube design, Flex Z offers excellent comfort at low speeds on rough roads, whilst providing outstanding performance and accuracy in fast driving - on road and circuit. The ride height and spring preload are adjustable separately, giving full damper stroke at any height. A new oil formulation was used for Flex Z, giving stable performance at all temperatures. Damping is adjustable via 16 stages.
Tein Flex Z for Honda Civic Type R EP3 (01-05) is compatible with Tein EDFC (part number EDK05-12140, available separately), for adjusting damper stiffness electronically from inside the car. With EDFC, the level of adjustment is increased to 32 stages (EDFC standard) and 64 stages (EDFC Active).
These coilovers come with upper mounts, allowing camber adjustment on front McPherson suspension. Using Japanese manufacturing, Tein products enjoy a long lifetime and protection against corrosion, dust and temperature change. They also come with a 1 year warranty.
Tein Flex Z use a sealed damper from the factory. Replacements are only possible using a complete damper unit, which are low cost and quick to replace.
Tein Flex A, however, uses a fully rebuildable damper. A rebuild/overhall service is available from Tein.
Tein Flex Z and Flex A are guaranteed for 1 year.
- The perfect compromise between comfort and performance
- To suit Honda Civic Type R EP3 (01-05)
- Ride height adjustment : from -9 to -77 mm (front) and -3 to -61 mm (rear)
- Spring rates : 6 kgF/mm (front) and 8 kgF/mm (rear)
- 16 stage damping adjustment
- Compatible with Tein EDFC (EDK05-12140)
- OEM specification brake hose fittings
- Anti-corrosion coating and dust boots
- 1 year warranty
- Tein reference : VSA22-CUSS1
Other products you may be interested in