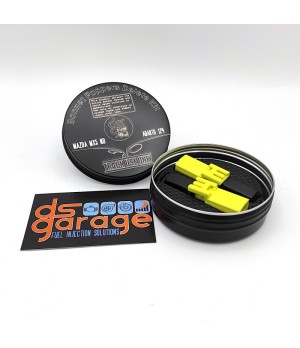  
Mx5 ND and Fiat Abarth 124 Active Bonnet Delete Kit
Mx5 ND and Fiat Abarth 124 Active Bonnet Delete Kit
This deleters let you disable the active bonnet pistons:
no check engine light on your dashboard
ECUs are happy
you'll never issue a bonnet popping during a trackday, over curbs or hard braking
Secure payment
Express shipping
Order support
Mx5 ND and Fiat Abarth 124 Active Bonnet Delete Kit
This deleters let you disable the active bonnet pistons:
no check engine light on your dashboard
ECUs are happy
you'll never issue a bonnet popping during a trackday, over curbs or hard braking
Random bonnet popping is a real issue among MX5 ND owners, so, at least during trackdays or closed road events you can avoid a fliyng bonnet and subsequent repair costs (up to 3000€).
As any safety system THIS IS ONLY FOR TRACKDAY/CLOSED ROAD COURSES, as it can avoid your insurance and more important cause injurings to pedestrians!
Included is a pair of deleters using exact same connector as OEM, just unplug your bonnet pistons and connect these, no mods to your car harness!
We also include zipties and instructions link to install neatly in your engine compartment.
Other products you may be interested in